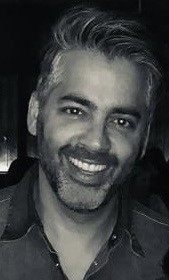 Dr. Amit Chaudhry
Dr. Amit Chaudhry obtained his Doctor of Dental Surgery and BSc from the University of Western Ontario in 1998. Upon graduation, he began working in Belleville, and the Canadian Air Force Base in Trenton, Ontario, quickly gaining experience in all facets of dentistry.
Dr. Chaudhry focuses on a patient-centred approach to dentistry, coupled with a strong emphasis on communication, knowledge, and shared mutual goals and trust. He strives to create beautiful functioning smiles not just for today, but for years to come.
Dr. Chaudhry's commitment to lifelong learning enables him to remain at the forefront of evolving techniques, research and procedures. In order to remain current and progressive in all aspects of dentistry, he continues to immerse himself in numerous continuing education courses. Although he has completed extensive training in oral surgery, cosmetic, restorative, sedation and Invisalign orthodontics, Dr. Chaudhry's passion is root canal therapy. Cliff Ruddle, John West and Mark Olesen are a few of the internationally recognized leaders with whom Dr. Chaudhry has been mentored and received clinical training.
Dr. Chaudhry also has a keen interest in implants, graduating from the Carl Misch Institute of Technology, and has obtained a fellowship from the International Congress of Oral Implantologists.
He understands current and evidence-based knowledge is necessary to create unique, personalized and comprehensive care plans. He strives to empower patients by providing knowledge of treatment options and outcomes. Recognizing overall success requires the patient's active participation and selection of treatment best suited to their needs.
Dr. Chaudhry has played an instrumental role in establishing and maintaining patient-centred practices in Ontario and British Columbia. He employs Specialists, Doctors and team members who demonstrate exceptional skill, compassion and share his vision of excellence. By providing patients of all ages with exceptional experiences and quality care in a comfortable atmosphere, he and his team strive to eliminate the negative stigma associated with dentistry.
When Dr. Chaudhry is not engaged in work related activities, he enjoys entertaining and travelling with his wife Namrata and two daughters, Samira and Diya. Dr. Chaudhry enjoys all facets of athletics, from observing to participating. Golf, basketball, tennis and hockey are a few of his favorite sports.